At Freelands Foundation (London) for Art Licks Weekend 2019: Interdependence
18 – 20 October 2019
Re-reading the library was a project developed with artists Katy Bentham, Tess Denman-Cleaver, Emily Hesse, Fiona Larkin, Nellie Saunby and Holly Argent for Art Licks weekend 2019.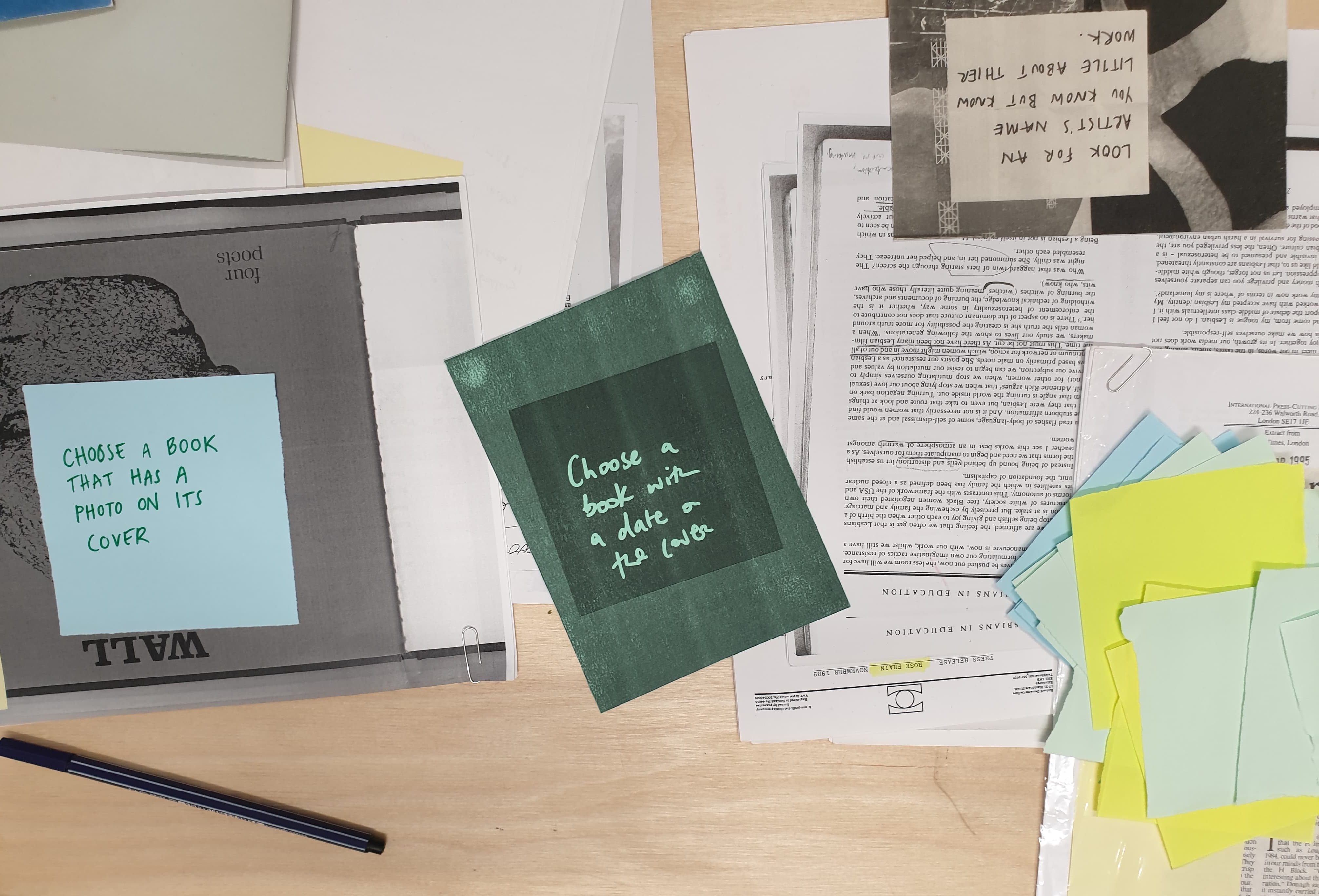 The project explored ways the Women Artists of the North East Library can be read, re-read, and considered the library as a space to acknowledge an inevitable dependency on other artists' practices, on their interventions, their struggles and also their accomplishments.
In residence at the Freelands Foundation reading room, visitors were invited to browse the library, photocopy it and record their own readings of the literature. Amongst the installed library material, artists Katy Bentham, Tess Denman-Cleaver, Emily Hesse, Fiona Larkin, Nellie Saunby and Holly Argent presented the outcomes of a series of workshops exploring how to navigate the material through instructions, conversations and reading lists and how various narratives may be constructed or prompted from the literature.
Taking the exercise of reading as a starting point, the library was read in various ways over the weekend registering and sharing aloud the voices and lineages, both regional and further spreading, that currently form the library's trajectory. Re-reading the library was also an opportunity to consider how, if we propose ourselves as a 'readership', we are reliant upon already established readings of historical narratives or more anecdotal or local experiences, and what combinations of these might displace one another.
For the project Emily Hesse created a sound piece 'Quaking Houses Bleak Poetry', a poetic response to the book Quaking Houses by Penny Kemp and and John Griffiths donated to the library in 2018.
"…I was particularly interested in this idea of bleak poetry and how place names form it, so have written a 'bleak poem' from local place/site names in my part of the North East." Emily Hesse, October 2019
Listen to the piece here
[soundcloud url="https://api.soundcloud.com/tracks/698282284″ params="color=#acc19a&auto_play=false&hide_related=false&show_comments=true&show_user=true&show_reposts=false&show_teaser=true" width="100%" height="166″ iframe="true" /]
Collective readings with Women Artists of the North East Library
Saturday 19 and Sunday 20 October
The public were invited to explore what makes up the Women Artists of the North East library and join a collective reading exercise. From these collective readings, new reading lists were generated and are made available in the library thereafter.
---
Art Licks Issue 24: Interdependence
To coincide with Art Licks Weekend, Issue 24 of Art Licks was published responding to the theme of the weekend: 'Interdependence', exploring ideas of artist community, supports, reciprocity, and networks.
Women Artists of the North East Library were invited to write a Reading List for the issue. You can find copies of this issue of Art Licks in the library or you can order a copy from Art Licks directly.
---