For 2021 the library has commissioned illustrator and graphic designer Sally Pilkington to design a new Donations Card for the library.
The library is built on your donations and we love hearing the reasons you want to be part of the library collection. Each one of Sally's Donations Cards will have a space for you to record a message/note about why you are donating. Your contributions build a bigger more diverse narrative of women's creative work in our region and that is why they are so important.
From August 2021 everyone who makes a donation will be invited to complete one of Sally's unique limited edition donation cards to sit alongside their donated item.  
Sally is also designing a flyer and a set of posters for our current programme of events at the Middlesbrough Institute of Modern Art (MIMA).
Donation Cards
Sally designed and hand made a limited edition of 100 donations cards for the library and a unique stamp to create more donations cards beyond her 100 printed designs.
Talking about how she approached the commission Sally said…
"I spent some time rummaging through the library collection. I liked that it was a bit of a jumble, and that it might look completely different as it moves around from venue to venue, rearranged on different shelves, and picking up new material as it goes.

I started to think of the library as both a representation of, and a living part of an ecology of people, work, friendships, ideas, spaces and events. There's something quite mysterious about flyers and posters for past art and performance events… a paper remnant of something ephemeral that has been and gone.

The donations card print is made from stamps and ink-pads – a stationary staple of any good library. The design is an abstract map of connections, happenings imagined and remembered, books, bodies, movement, places, objects morphing, exploding bookshelves!"
the process…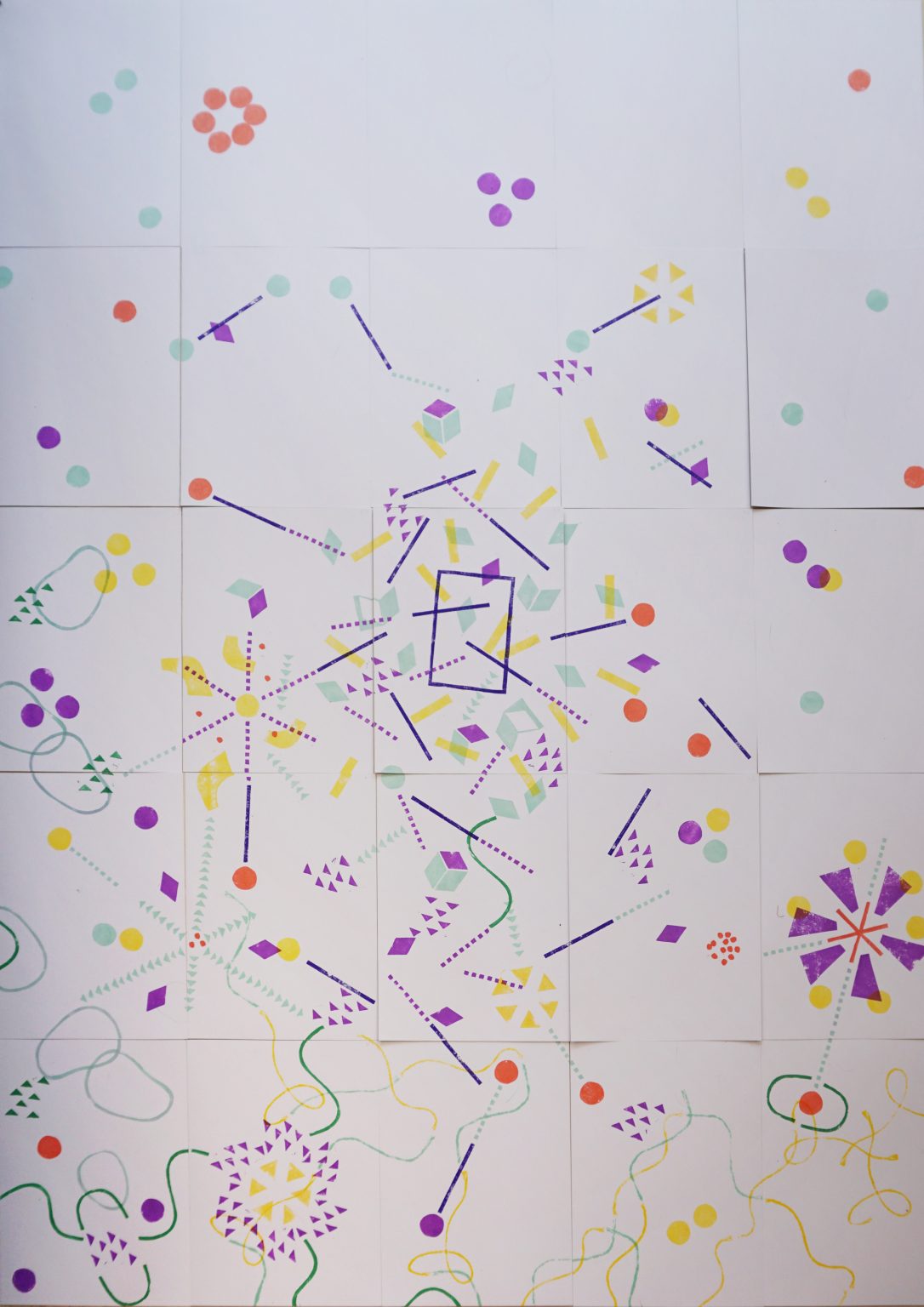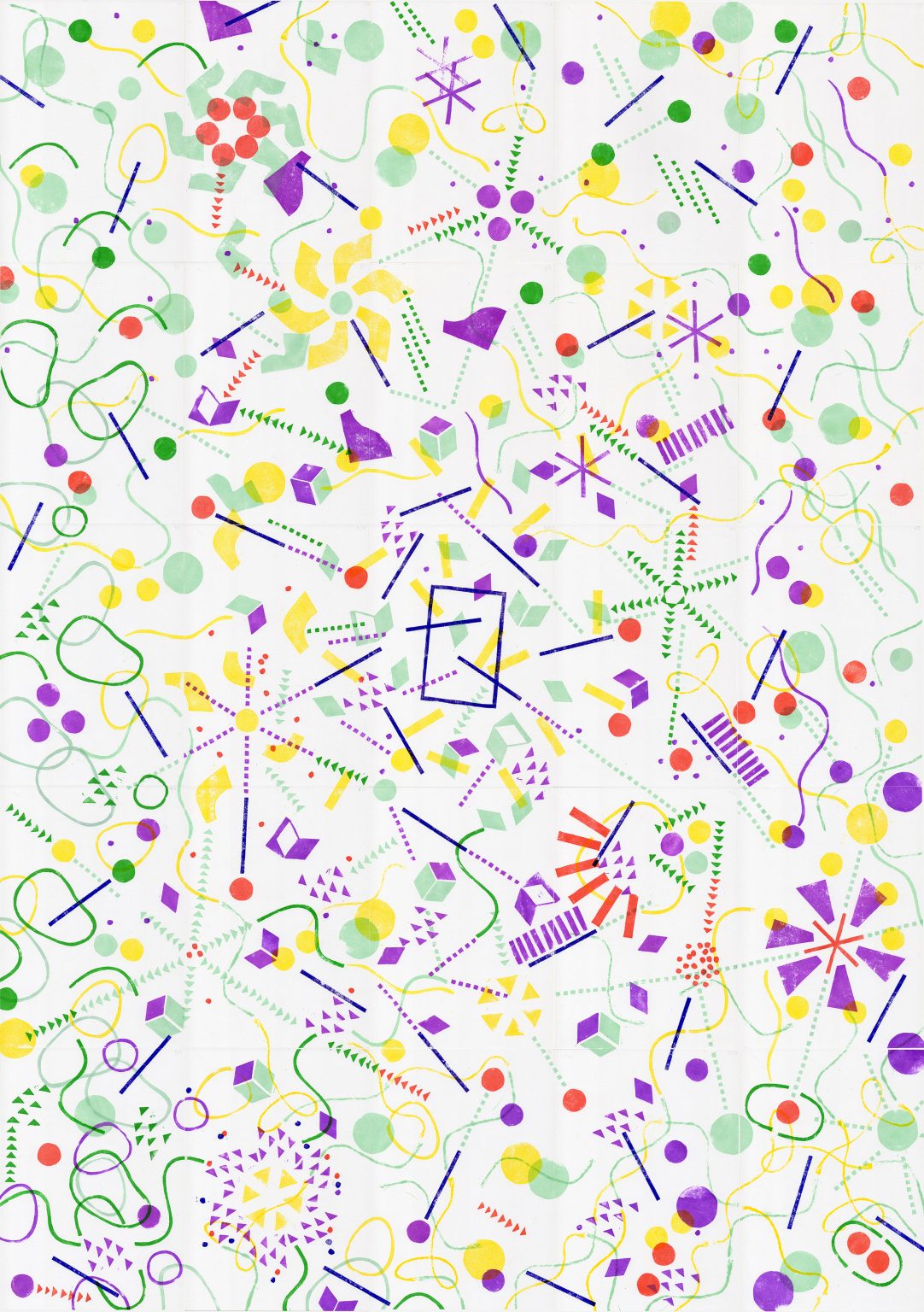 Flyer
Sally designed our flyer for our Open Library Event Series at MIMA using stamp elements from her donations card designs.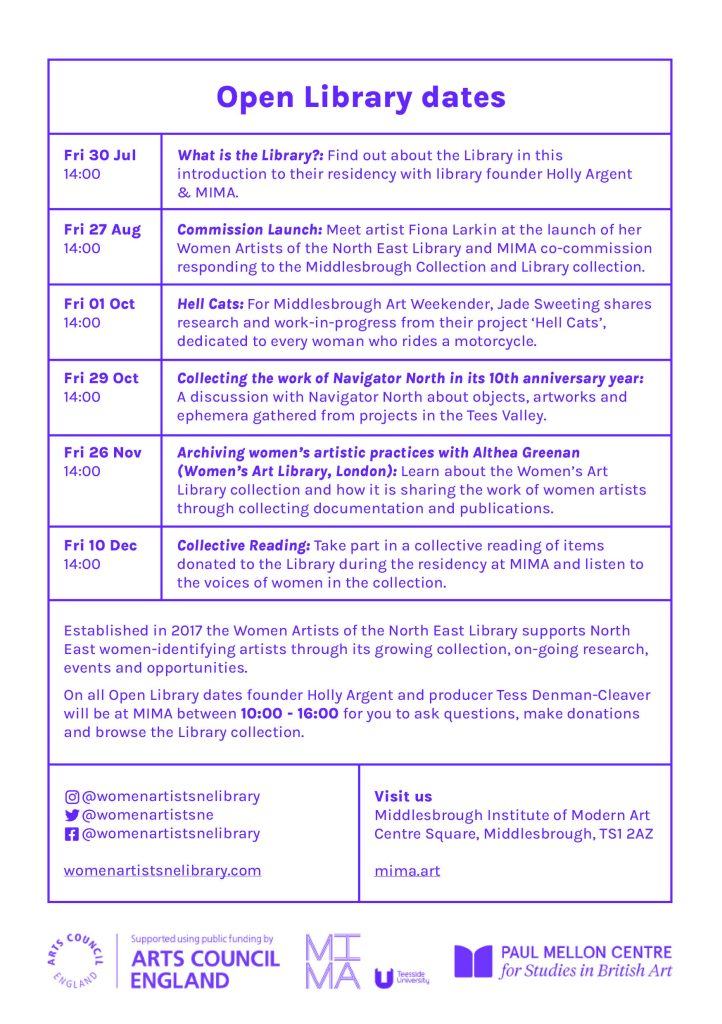 Sally Pilkington is a graphic designer and illustrator based in Newcastle-upon-Tyne. She works across a diverse range of projects from print and web design to murals and installations, creating playful designs with paper cutting, collage, lino-print and hand-drawing.
Her work includes the design and delivery of participatory projects, visual identity design, and artist-led collaborations. With a passion for projects that drive positive social change, Sally works collaboratively to shape meaningful projects that make a difference.
See more of Sally's work at www.morphcreative.co.uk